Ok...summarized briefing is due.
OVER...


And with that here's a look back the summer of the only chick you know who's about 75% sure that she was a gypsy in a past life (prob this one too)
May
- movin' madness (refer to previous blog)...
health...ehhh...so-so to say the least
Just...dance...it...off
June
- health...ehhh...so NOT so...and with that
J-O-B - don't quit...move on...happiness is important...right?
Aaaaaaand we're OFF!!!
Time to nomad it up
July
- Hey you ;)...thanks for stickin' around
Even despite all the life moving...oh and did I mention?
I moved again...storage to be exact

August
- Healing...loving...learning
Wasup bro...it's been a while
Say NO to drugs
Weed isn't a drug
Long drives, cocaine, strippers & palm trees
September
- Homeless is the new black
Friends are in the places you least expect...haha
Urban dwelling
Oh, hey Dad
Did I mention I'm looking for a job?...
And heeeeere we are...
Enough with the chitter chatter...details coming...not SOON in my much anticipated autobiography (which may or may not ever be written...makes it that much more exciting!!)
Time to exercise those peeping tom eyes...walk with me
Wine makes my heart smirk
My Block
Shout to all my Platano Tigers, i.e. Dominicanos right up there off Broadway...
Hello Brooklyn...
Food is my lover
...and chocolate
...and Tanya
...and these 2 (that'd be Nailah and Ariel)
...and BK
First day of freedom...
Being jobless...it hurts soooo gooood
Random gallery stop in QB...right by 5 Pointz...Havoc says hello
I wanna recycle my candles
5 Pointz; sure why not...
Grandmasta Yoda says...
"I want YOU to stop fakin' the funk & being a T-O-Y"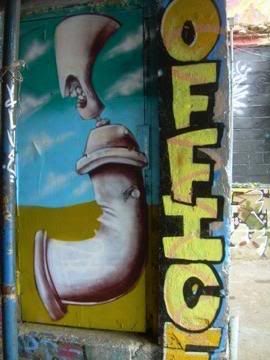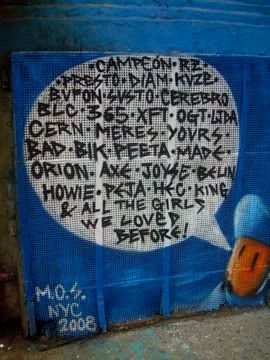 Graff meets Molly Ringwald
TOODLES...
Toys R' Us is great...
for terrorizing the wee ones buhahahaha
Hello there
Peace signs = V signs
My sissie Niles, Esquire, Kraff & Carnage - Scratch heads
H.S. crew
Dancer sweat...ewwww
Post card skills shhhhhhun!
I played this song substantially
and this one...
Oh, hey...
didn't realize you were still there
so I went to FL
Kewl...
Imagine if I did acid
aaaaand these...
MOVE-MEANT
Roadtrip cuts
LOOK it's PARIS and she's nekked...REEEEMIX!
PAY ATTENTION
Miami is urban...in a different way... ha
Tampa, not so much
I miss el sqaudron
and I don't smoke cigarettes
...smoke caaaks
...and more caaaks
YAAAYYY!! (Hi Aqua)
Me & Linda...yeah, we're gay like that
La homie Beta
RUMBA KING!!!! Jr...
I loathe the HEAT...but it's still cool to be me
V is for VIP
Biggest & Baddest
Not awkward at all
I Live My Life in Leaps of ...
and with that...
yay!
and back to nay...
...we live in
Linda is for the babies
I told you
But I still <3 NY
- © 2009 by Jessica Freites